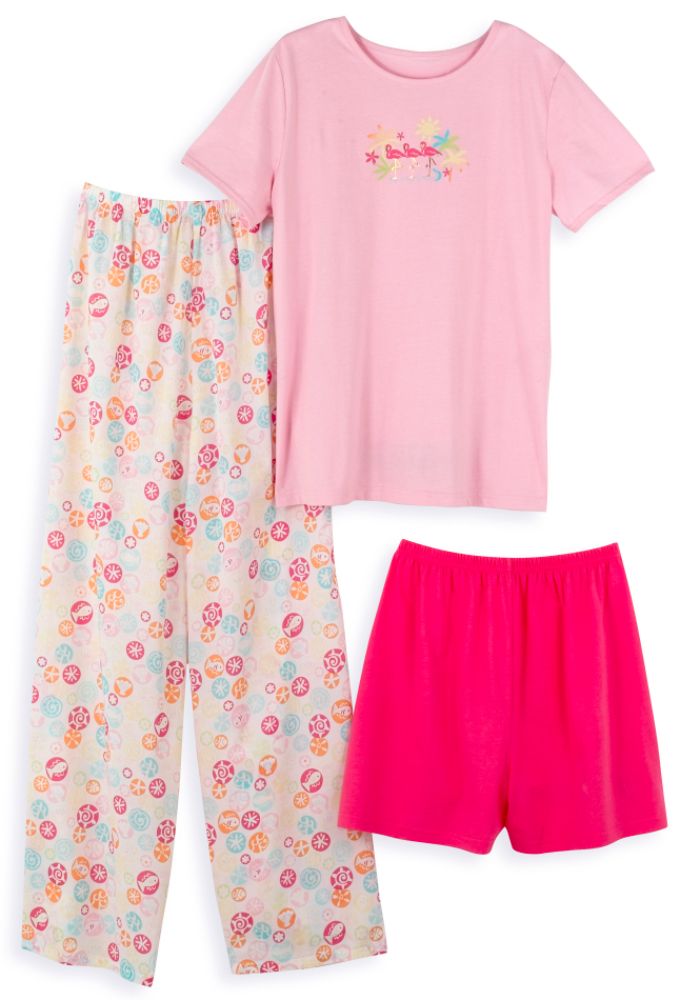 So after years of wearing maternity and nursing nightwear, I came to realize recently that I have absolutely no summer pajamas anymore. Ok, well none that fit anyway. That's a whole separate issue! So when my friend Mary and I were planning our big 'moms only' weekend get together last weekend, I said that the one thing that I wanted to find while shopping was a pair of comfy summer pj's. Shirt and shorts. You wouldn't think that this would be such a tall order.
First of all, unless you are a super-skinny model type, most of the styles of clothing today are out. Our first stop was Meijer and neither of the 2 racks of nightwear had anything close to what I was looking for. Then we headed to Target. Lots of options – if you are a super-skinny, model type. I couldn't believe the skimpy shorts and baby doll t-shirts that were pretty much everything they had. Ok, well so maybe 10 years ago I MIGHT have fit into something like that. Not after 3 kids however. I just wanted something comfortable.
We had better luck at Sears, thankfully. Finally a store that recognizes that women come in all shapes and sizes! They had a great 3-piece set of pajamas, complete with both shorts and pants, in a variety of sizes and colors (see photo for example). Very cute, very comfortable-looking. Without going into specifics of what size I was looking for (too depressing to think about), I was having trouble locating the correct size in a print that I liked. The ones I seemed to like the best came only in a sleeveless version, and I really wanted short sleeves. Ok, so I finally settled on a pair in pink, which did fit, but if they shrank at all then it would be close. After getting home on Sunday, I thought well maybe I'll just run up to the Sears here and see if they have a pair in the correct size. No big deal. When I got there, they had only one pair in my size, and I hated the colors. I did see one in a color that I liked, which was a size bigger than I needed. I unwrapped them and held them up and thought, ok well these will shrink, so maybe I can make them work. So I did the exchange and headed home to change into my new, comfy pj's.
I got home and put on the shirt, which was indeed tent-like on me. Then I put on the shorts – which barely fit. Hmmm. So I looked at the sizes on each of them. The shirt was the size which I had purchased (huge). The shorts were 2 sizes smaller (the size of the pair that I'd just returned). The pants were in between – the size that I actually needed. Three parts to the set and each one a different size. And it had been packaged just as if it had never been opened. I thought about it long and hard – I know, way too much stress over what to wear to sleep in. And since I had to run out to the other mall to pick up something else anyway…. I figured it couldn't hurt to look there and see if I could (finally) find something that would work. So today at lunch, i headed over there. And finally found, in the correct size (yes, I double-checked all 3 pieces), and in a nice blue color that I really like, a pair of pajamas. Now I just have to wait 9 hours or so to put them on. Hmmm, maybe I'll put them on when I get home and just wear them all evening. Yep, that's what I'll do. 🙂