Just some quick links and fun stuff I found around the web this week:
First off, don't forget to enter my giveaways over on my other site – for a Precious Moments figurine and a $25 gift certificate to Hanes! Don't miss out on the travel tips in the Hanes/Disney post as well.  And other new posts this week include a book review for Beneath a Buried House by Bob Avey, a review of the Rose Petal Cottage that I won from MomViews, and why PRIZEY works for me!  🙂  There are going to be several more fun giveaways coming next week too, so stay tuned (and subscribed)…
This week's Contest Round-Up is up over at the other site as well. And don't forget to check the Contests page during the week – there are some pretty awesome giveaways happening around the blogosphere so you don't want to miss out on your chance to enter any of them!
Here's a few interesting things coming up around the blogosphere: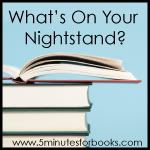 Some interesting posts I read this week on other sites include:
That's it for this week – Hope everyone has a great weekend!  🙂